How To Dye Human Hair Wigs?
Dyeing human hair wig is a great way to increase personality. Once you've dyed your human hair wigs at home once, you'll find inspiration to change them frequently. So don't be afraid to try to change the color of your Remy human hair wig in safe ways! We all know that hair dye is not friendly to our natural hair and it is also damages and weakens human hair wigs. So make sure you dye your hair the right way when you want to do.
HOW TO DYE HUMAN HAIR WIGS IN RIGHT WAY?
1. Use 100% unprocessed human hair wig and natural dyes
Human hair that has not been dyed or chemically treated is better for dyeing. 100% unprocessed human hair has a resistant strand, while chemically treated human hair has a porous strand. It is a good idea to dye your human hair wigs with natural products whenever possible, and when your dye your human hair wigs, please avoid using harsh chemicals, and minimize the number of times you dye your human hair wigs.
2. Choose the color you want
If you don't know what color to dye, you can look at the combination of hair color names and Numbers. On a scale of 1 to 10,1 is the deepest brown and 10 is the lightest gold, and the box also comes with a colorimeter. You can look at the colorimeter and imagine what your human hair wigs will look like, then you choose the right color. It should be noted that applying too much hair dye could lead to color buildup -- especially if the same color is used repeatedly.
It's a good idea to buy the right dyes, whether you want to dry a natural curl or silky straight human hair wigs. Each type of hair has a way of coloring. To maintain a more long life of your human hair wigs, and the subsequent comfort of your human hair wigs, you should research the right hair dye brand and tailor the dye to your hair type.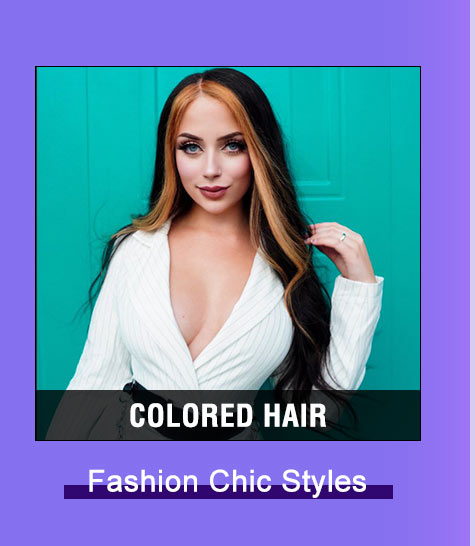 3. Read the instruction
Read the instructions, warnings, and dos and don 'ts that come with hair dye. The instructions can guide you the right way on how long it has been processed and whether it is safe to use chemically treated human hair. 
4. Wearing gloves & Apply professional tools
Be sure to wear gloves. When you dye your human hair wigs, you should protect your hands and nails from being stained. Because once you get a stain on, it will take you a few days to remove it. Bleach can be harmful to your skin if you don't wear gloves, and in severe cases it can burn your skin.
Obtain the appropriate tools for the application process. Tools include an applicator brush, a mixing bowl, hairpins, and cream. Use these tools instead of your hands to make the dyed human hair wigs look smooth and even in color.
5. Test a strand of hair
If you are not sure what color you want to dye your human hair wigs, you can try a small strand of human hair in the back, which can tell you if you're comfortable with the color. And it can also help you find out if you are allergic to hair dyes. Whatever, you should attend that wet human hair colors usually look heavier than the dry human hair color.
6. Dye your human hair wigs in an open space
Try dyeing your hair in an open studio instead of a small bathroom or room. If you're at home and you don't want to breathe in hair dye or bleach fumes for too long, open all the windows, please.
7. Avoid extreme color changes
If you don't have professional training, don't dye your human hair wigs too badly. If you want your white hair to turn black, or your blond hair to turn black, you need to use red or mauve dyes to offset the green, otherwise, your hair could turn a strange green, which requires expert knowledge of the color range, so don't try it lightly. Or consult a stylist or colorist
8. Don't wash your hair with hot water
Using hot water can cause human hair to lose essential and color. After dyeing your human hair wigs, try to wash it with warm or cold water, which can avoid color fading and drying.