How to Strengthen Your Edges Hair ?
Hair is a part of our identity,it shapes and molds us. Our hair has gone through a journey that has been cultivated since childhood. The Black hair journey is complex, grounded in history and context, yet beautiful all at the same time. It can transform between braids, cornrows, dreadlocks, faux locs, perms and presses, relaxed, left in its natural state, or tucked away under wigs. Our hair can manifest itself in many forms, but throughout our journeys, we often forget to look after and strengthen our edges.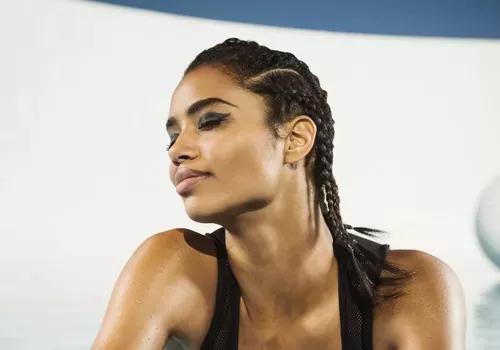 Our edges are the baby hairs that grow along the perimeter of our forehead. Depending on how the hair is styled, your edges can be "snatched by the Gods" or left to survive on their own. Whatever the case may be, our edges are part of our hair and they deserve to be looked after and treated with the same care and attention that we give to the rest of our strands. Keep scrolling for a few tips on how to properly tend to your edges.
Strengthening Weak Edges
* Brushing frequently, tight braids and not taking extra care when you wash, moisturize and deep condition all contribute to damaged and weakened edges. Treat your edges with some extra TLC and be gentle when you brush and style. You should also limit your use of straighteners and blow dryers and take a few minutes each day and massage your scalp with oils to help blood circulation and to stimulate growth. Lastly, fill your diet with vitamins and nutrients to support overall hair health.
* To strengthen weak or barely-there edges, you must keep your hair moisturized and make sure that you oil and stimulate your scalp regularly in the problem areas
When your hair loses its edges, there really is no hair there to work with in repairing or growing them back. You must concentrate on your scalp and your hair follicles to reproduce 'new hair,' or as they call it, 'baby hairs,' on your road to growing a fully strengthened hairline. So, oiling your scalp around the hairline and creating a massage routine in those problematic areas will help moisturize your scalp and stimulate your hair follicles, causing them to reproduce new hair growth.
If you want to protect your own hair well, we also advise you wear a human hair wig,because wearing a wig can avoid those demages on your own hair. So check our Modern Show Hair Online Store to find your favorite wigs.
If you have any question about hair care, or have any good proposals, please freely leave your comments.