Still Don't Know About U- Part Wig?
In the modern fashion day, there are still many customers who don't know about U- part wig. So today I want to introduce u part wigs  for you in details. When you want to try a human hair wig, or sometimes you get tired of the fussiness of the sew-in wig or glue wig, try the new begin: u part wig.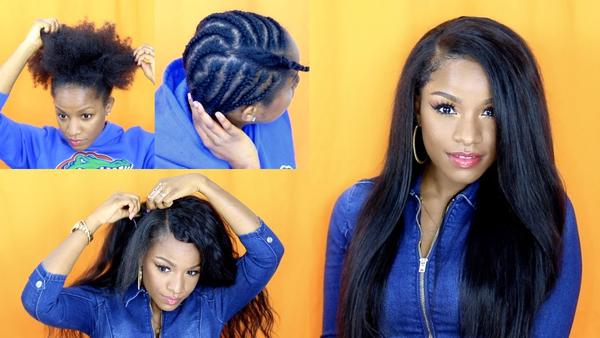 Content:
☆ What is u part wig
☆ How to properly install u part wig
☆ Why you need u part wig
☆Unsuitable people of u part wig
☆ Where to buy real human hair u part wig
WHAT IS U PART WIG
U part wig is a wig with U part opening at the top or side of the wig. The u part opening enables cover up the traces of the wig by blend your natural hair leave out over the top of your wig or attach a closure, leaving you with a hairstyle that looks as if it is growing out of your scalp! The "u part" creates a natural look and makes the wearer feel like they're wearing their hair.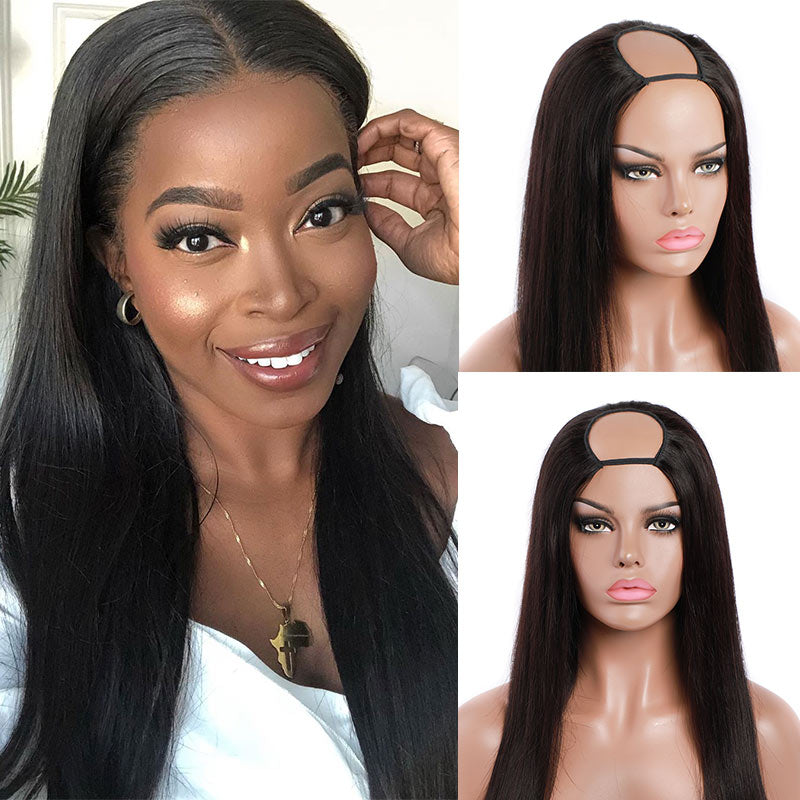 HOW TO PROPERLY INSTALL U PART WIG
1. Leave out a u part area on the top of your front hair to match the u-part width size, and braid your remaining hair back in rows.
2. Hold the hair on the reserved u-part area in a place with a bobby pin.
3. Choose an u-part wig with proper part size.
4. Put your u part hair on your braid, secure the wig with combs inside.
5. Blend your natural hair with a wig by the combs inside.
6. Put down the hair on the reserved u part area, and part it according to the middle, left, or right parting wig you have chosen, and use a flat iron to style.
7. Use edge control to make the edge more natural.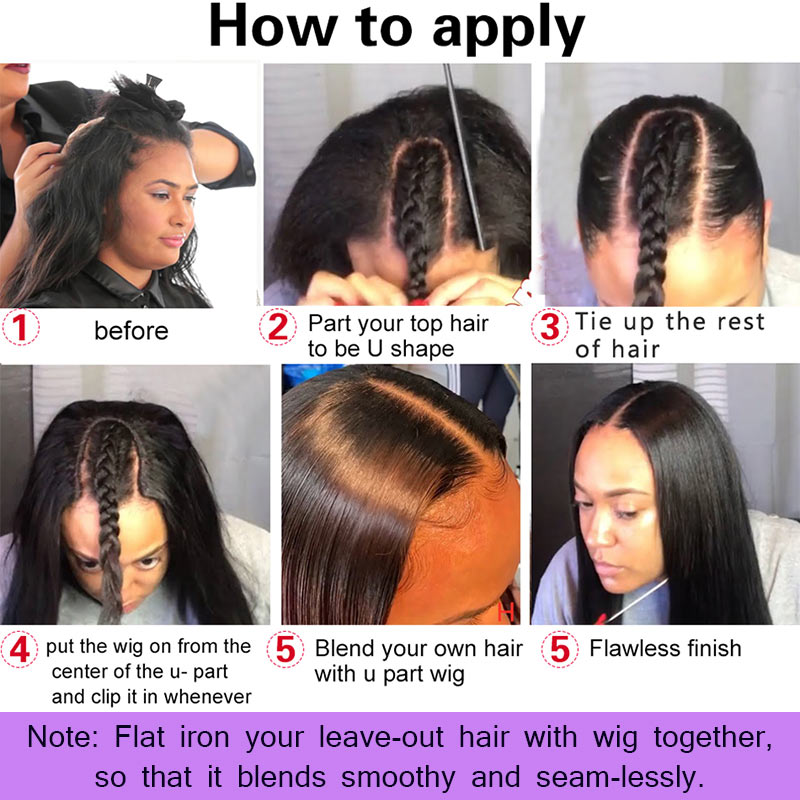 WHY YOU NEED U PART WIG
1. U part wig can easily be worn and remove. It doesn't need to be glued to the front of the lace or sew-in the human hair to your natural hair. The glue can easily damage your scalp, and it can damage the hair follicles on your scalp and cause permanent hair loss after a long time. U part wig can protect your scalp and natural hair by avoiding glue and sew-in technique. U part wig as a protective style for the majority of your hair is braided and concealed underneath the wig, which can give you the same effect as sew-in or glue wigs, what's more, u part wig is complete access to your hair than the sew-in or glue wigs. 
2. U part wig is friendly for the beginner and lazy girl. You can not an experienced hand to wear a headband wig, even you are a beginner, you don't need to worry about making a mess of your u part wig, and it is so easy to wear, which is as simple as putting on your shoes or your cloth, and you just need put the wig on your head which braided hair back in rows and leave out the area to blend u part wig and fixed your hair and the wigs by the comb inside, and then adjust the edge of u part wig and style your hair and the human hair on the wig.
3. U part wig can give you a supernatural looking. U part wig can display your natural front hair, which blends with your hair by several combs and concealed the traces of wig cleverly, and it leaves you with a hairstyle that looks as it grows out from your scalp, What perfect! 
4. U part wig helpful to protect your scalp and your daily hair care. U part wig blend with your natural hair by several combs inside, and it avoids Pull your scalp like other lace wigs. What's more, you do not need to have tight braids with a lot of tension on your edges because you can take the wig on and off every night. It's easy for you to wash and take care of your hair daily.
5. Money-saving and time-saving. You don't need to go to a professional salon to sew in, and you only need to spend about ten minutes to put on the wig. While wearing a lace wig will take 1-2 hours. Compared to wearing a lace wig, you do not need much time on wearing the human hair u part wig.
UNSUITABLE PEOPLE OF U PART WIG
1. The people have thinning hair or who are experiencing a bald spot at the top of the head, u part wig may not be for you because it will be difficult to cover the top of the wig.
2. The people need to wear a wig day and night. You have to remove u part wig before taking a shower or sleeping, so if you won't wear a wig all day, you need a sew-in or glue wig.
3. You had styling your natural hair. Please don't wear u part wigs if you had style your natural hair, which would ruin your hairstyle.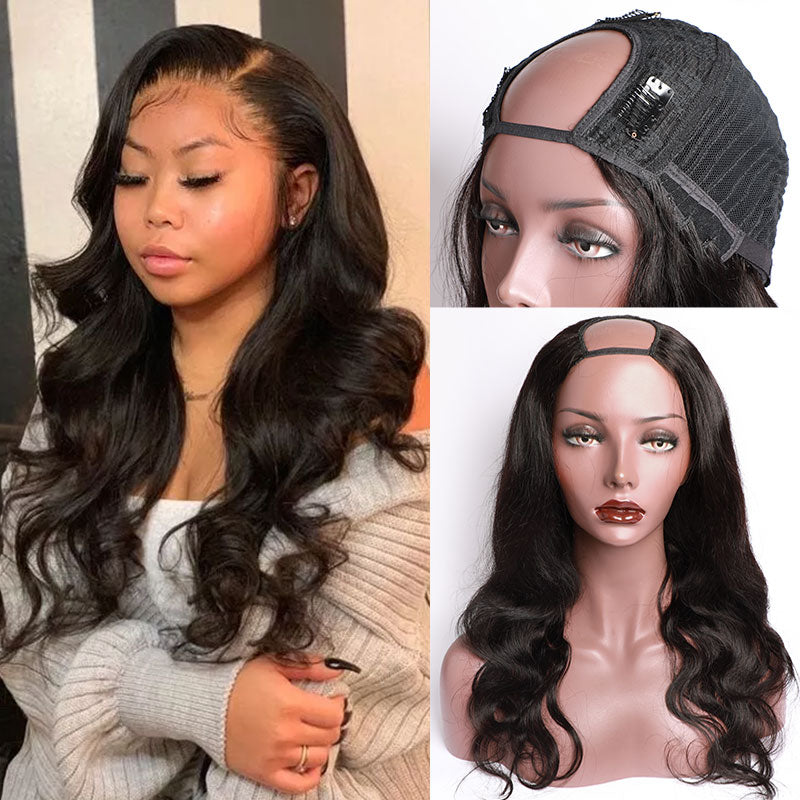 WHERE
TO
BUY
REAL
HUMAN
HAIR
U PART
WIG
Modern Show Hair Official Web Store is the best online shop to buy real human hair wigs, u part wig, virgin human hair, transparent lace closure and Human hair bundles. Modern Show Hair only offers a high quality of 100% human hair weave. Pay the factory price and get satisfying human hair. Get a move on!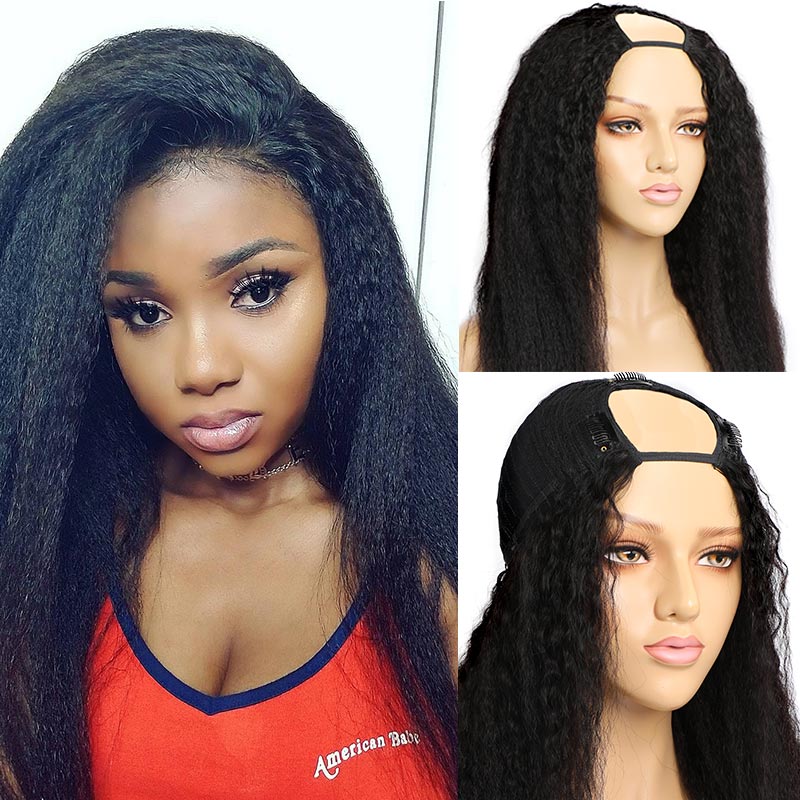 If you have experience in wear a u part wig and have any tips about u part wig or about human hair, leave a comment below and share the goods!