Nom de marque: Modern Show
Matériel: 100% cheveux humains vierges Remy sans produit chimique
nom du produit:Perruque U partie (Partie médiane)
Texture des cheveux: cheveux bouclés crépus, cheveux afro bouclés
Couleur de cheveux: #1B, noir naturel (Peut être teint et blanchi) 
Qualité : aucun rejet, aucun enchevêtrement, aucun poux, bonnet de perruque sans colle
Caractéristiques : permanente et re-coiffage, rétention complète des cuticules.
Densité de perruque : 150%. Taille de la perruque : taille moyenne (circonférence : 22,5 pouces) ; taille d'ouverture de la partie U : 2 "x4". 1.5"x3".
Emballage: 1 pièce
Poids de cheveux: 200G-270G
longueur de cheveux:10 pouces-28 pouces (en stock)
Mode de transport:  Par Fedex,USPS,DHL, Expédié sous 24 heures, Arrivée dans 3-5 jours ouvrables.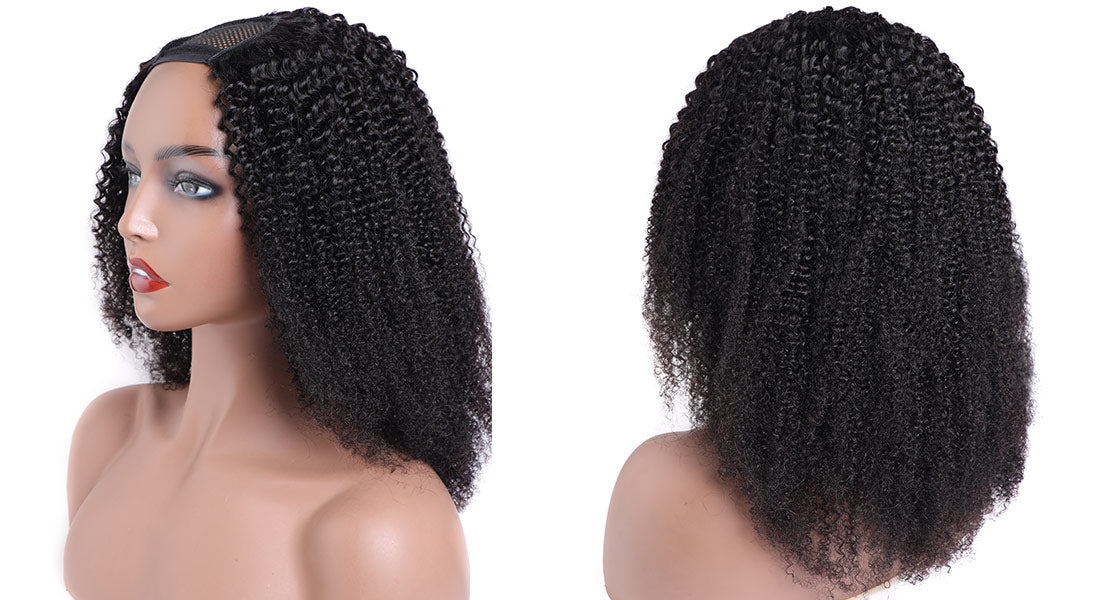 What Is U Part Wig?
U part wig is super easy to help you add volume and length. Its U-shaped design which the wig is open at the top, it is convenient to make your natural hair to be combed and blended over the wig.
Natural-looking & comfortable feeling: Made of 100% Remy human hair, tangle-free, and no shedding; Long and full head wig look natural, real, very beautiful and feminine; Better breathability, will help your scalp breathe well.
They can be easily cut and also styled in a way that suits your personal taste; Adds length, volume, glamour and thickness quickly and safely, our human u part wig is perfect for dark skin to embrace your natural beauty.
U part wig cap with 3 combs at top,1 comb at back and adjustable straps to fit all heads well, you can wear or take it off freely; has a u-shaped gap in the front through which you use your own hair to create a natural parting.
Wig Color: Natural Black, more natural and healthy, u part wig for African American can be dyed and bleached. Very stylish design with natural pretty looking and soft silky touch.
Please Note: All wigs will shed slightly especially when you wear for the first time, which is normal. Colors may vary slightly depending on your personal computer or cellphone monitor settings. We do try our best to accurately represent colors on all of our products.
Welcome To Modern Show Hair VIP Club

☆ Why To Join In Modern Show Hair Customer Club?
1. Purchasing Hair Will Save More Money.
2. Win Reward Points,You can redeem VIP Gift.
3. Be the first to know our newest hair promotion.
4. Refer 1 Friend,You can Get $8 Cashback.
Step 1

Contact us by online chat,email,IG,FB

Step 2

Send us your email and name,we will set your name as a special coupon code ($10).

Step

 3
Reffer your code to your friends, they will get $10 off their order from our site, and meanwhile you will get $8 reward.

Tips

Recommend more friends, get more Cash Back !

☆ How To Join In Modern Show Hair Customer Club?
1.Register Account on our website.
2.Place Order On Modern Show Official Website.
3.Subscribe our Email,Join in our Email List.
4.Bookmark our website (https://www.mshair.com) on your phone.
5.Join In Modern Show Hair Facebook Group,Enjoy exclusive offer.

☆ How To Check The Reward Points You have ?
>>> Log into your account ,then click this icon

☆ How To Win Reward Points?
1.Register your account on our website, get 500 reward points.
2. Place an order, order amount will be your reward points amount.
3. Share on Facebook, get 20 Points.
4. Share on Twitter, get 20 Points.
5. Like on Facebook, get 20 Points.
6. Follow on Instagram, get 50 Points.

☆ How To Redeem Reward Points?
1.Choose your favorite gift. DON'T BUY.
2.Remember the gift number.
3.Contact With Our Customer Service,Email:service@mshair.com
4.Tell us the gift number and your shipping information.We will arrange to ship it out,you can get the gift without any fee.
Q: ☆ Which Day Is Our Vip Day?
A: Monthly 18th.
 Vip Gift
| | | |
| --- | --- | --- |
| Item Number: 001 | Item Number: 002 | Item Number: 003 |
| Item Number: 004 | Item Number: 005 | Item Number: 006 |