This is really some good quality hair. it doesn't shed when combing thru it , it's very soft and full. The middle part lace is PERFECT. This hair looks exactly like the picture
Definitely loved this hair, will be ordering again.
The hair was soft and came as described. IMO it was better after washing, flat iron and style to my liking
just got my hair installed today and i loveee it, it's super soft no shedding and is just amazingggggg
The hair is very thick! I love this haaair it's soooo soft & it hold curls & crimps sooo good. This is good hair !! You won't be disappointed
The hair was soft bouncy full of life and just perfect. Been wearing it for weeks and no shedding! Definitely will be buying again from this seller! Thank you!
Product Infor
Hair Material:100% Human Hair
Circumference:22.5inch,standard medium
Hairline:Lightly pre-plucked

Purchase Infor
Shipping>>Free Shipping To USA,U.K.,Canada,France,Germany
Delivery Time>>USA (Free Shipping 3-5 Days,Fast Shipping 1-3 Days),Other(3-7 Days)
Payment>>Debit or Credit Card ,Paypal
Free Gift>>

Wig Cap,Eye Lashes,Wig Adjust Band
Return Policy
If you are unsatisfied with goods, it is for sure you can return or exchange items within 15 working days.
we will offer you the return address.
Buyer need to pay the shipping fee. Customers will only be charged once at most for shipping costs (this includes returns);
No-restocking to be charged to the consumers for the return of the product.More detail pls click
here(note:Returned items couldn't affect secondary sale so that we can refund you full money or exchange new goods for you)
Q&A
Q1:What is 360 lace wig?

We pre-sewed the 360 frontal and bundles into a wig. It is not full lace, not lace front, but is with lace around. 360 lace wig is with more wefts at top, total wig density is 150%. (360 frontal area density is standard 120%)
With this 360 lace wig you can have the versatility in styling options
Up-dos and high pony tails.
Freestyle parting design,so you can part in any desired direction.
No more need to worry about your edges showing or your tracks being exposed!!
You will have more depth in styling options with this hair extension piece.

Q2:How to measure the hair correctly?
Q3:Hair beginner must read-How to care hair?

1.Be gentle.When you are brushing your hair, be gentle. Without the proper treatment, your hair extensions will get damaged quickly.


2.Wash with moisturizing hair care products.Moisturizing hair care products will keep your hair healthy. If you are longing for shine, use a serum. Many hair care products that promote shine have a drying affect on hair.
3.Don?¡¥t forget to deep condition.Once a week you want to deep condition your hair extensions. Leave it on the hair for approximately 20 to 30 minutes and rinse.
4.Keep those ends trimmed.No matter what you do, your hair extensions will inevitably get split ends. The best way to keep split ends from getting out of control is to regularly trim them. Trim the ends of the hair every 6 to 10 weeks. Keep in mind that you don?¡¥t want to trim too much, otherwise you will quickly lose the length of your hair. You can either do it yourself or have a professional trim them.
5.Use a heat protectant.Whether it?¡¥s a blow dryer, curling iron or flat iron, they all have one thing in common: they damage your hair. If you want to make your extensions last, your best bet is to use a heat protectant whenever you use a heated appliance on your hair.
360 Lace Wig

Straight

360 Lace Wig

Water Wave

360 Lace Wig

Body Wave

13X4 Lace Front Wig

Straight

13X4 Lace Front Wig

Water Wave

13X4 Lace Front Wig

Body Wave

13X4 Lace Front Wig

Deep Curly

13X4 Lace Front Wig

Kinky Curly

13X6 Lace Front Wig

Body Wave

13X6 Lace Front Wig

Water Wave

13X6 Lace Front Wig

Straight

13X6 Lace Front Wig

 

Deep Curly

4x4 Closure Wig

Water Wave

4x4 Closure Wig

Body Wave

4x4 Closure Wig

Deep Curly

13x4 Frontal Wig

Highlight Straight 
Welcome To Modern Show Hair VIP Club

☆ Why Do You Join In Modern Show Hair Customer Club?
1. Purchasing Hair Will Save More Money.
2. Win Reward Points,You can redeem all kinds of VIP Gift.
3. Be the first to know our newest promotion.
4. Refer 1 Friend,You can Get $8 Cashback.

☆ How To Join In Modern Show Hair Customer Club?
1.Register Account on our website.
2.Place Order On Modern Show Official Website.
3.Subscribe our Email,Join in our Email List.
4.Bookmark our website (https://www.mshair.com) on your phone.
5.Join In Modern Show Hair Facebook Group,Enjoy exclusive offer.
☆ How To Check The Reward Points You have ?
>>> Log into your account ,then click this icon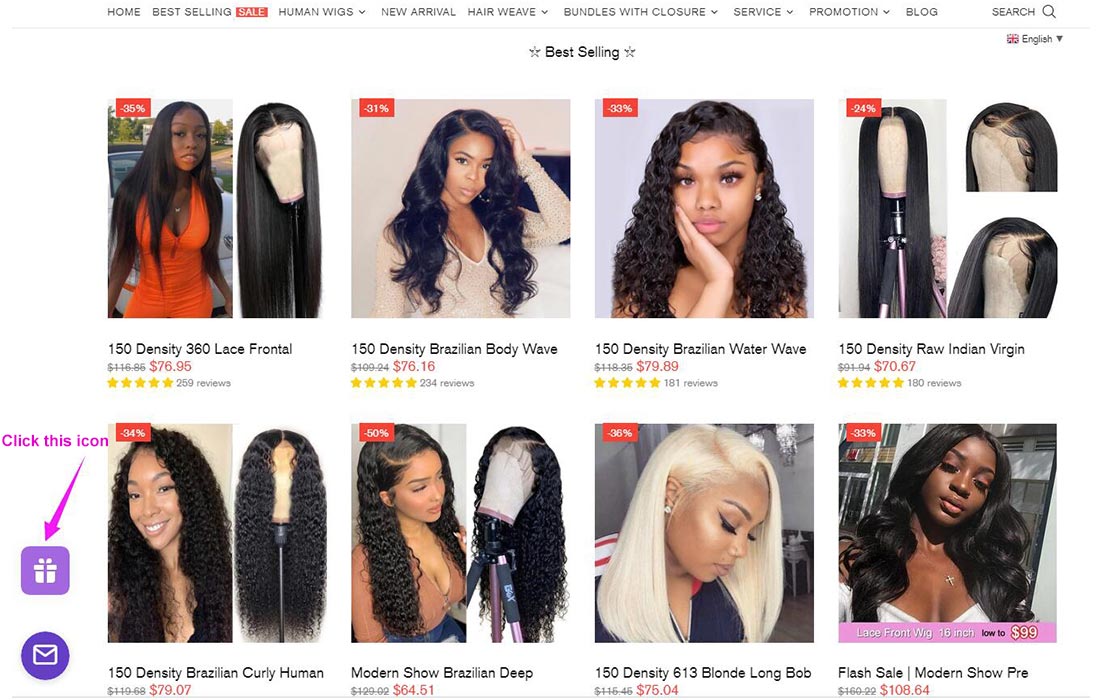 ☆ How To Win Reward Points?
1.Register your account on our website, get 500 reward points.
2. Place an order, order amount will be your reward points amount.
3. Share on Facebook, get 20 Points.
4. Share on Twitter, get 20 Points.
5. Like on Facebook, get 20 Points.
6. Follow on Instagram, get 50 Points.
☆ How To Redeem Reward Points?
1.Choose your favorite gift. DON'T BUY.
2.Remember the gift number.
3.Contact With Our Customer Service,Email:service@mshair.com
4.Tell us the gift number and your shipping information.We will arrange to ship it out,you can get the gift without any fee.
Q: ☆ Which Day Is Our Vip Day?
A: Monthly 18th.
 Vip Gift
| | |
| --- | --- |
| Item Number: 001 | Item Number: 002 |
| Item Number: 003 | Item Number: 004 |