Popular Hairstyles For Black Women In 2022
As we all know a hairstyle that suits you can really make your day different. When you choose a hairstyle, what do you take into account? Most people break their heads over the following moments. What is my face shape? What haircut should I get to highlight my finest facial features? What hairstyle suits me and brings out the best of my natural beauty? 
In this article, we will share the latest most popular hairstyles for African American ladies !
The ombre highlight is here to stay and one of the most popular color combos for winter is the warm reds, purples or blues – but what colors will we be wearing in the spring?
It looks as if our love-affair with warm copper shades is set to end early next year and a new wave of ash-blonde and ash-brown shades will come in to cool out the best hairstyles for black women!
I've seen some of the preview pictures of next year's best hairstyles for black women sporting the new ash shades, and although I didn't think I'd like it, I have to say they do look pretty great!
Best hairstyles for black women – Shoulder Length Trends
So – one of the major new styles is the shoulder-length cut on thick, straight hair that's got plenty of natural volume and a hint of defined waves in the lower lengths. If you're lucky enough to have an oval face, the centre-parting is the key look for next year – if not just wear an off-centre parting.
Fringes are changing to the full forward straight-across fringe, or the extra-long 'growing it out' fringe styled to make 'wings' on either side of the face. And to get the final top-of-the-range finish, add a fresh, medium ash-brown ombré to add a ton of classic elegance to glossy jet-black hair!
Short Hairstyle-edgy, short cuts
My personal favourite avant-garde natural looks right now are the angled bobs created on pre-dreadlocked hair.
And my other favourite, is the super-sassy new chin-length symmetrical bob with equal sides, a full straight across fringe and a fantastic jagged outline! Dyed a gentle but deep pinky-red, it's a totally modern look that will set your style on fire over the winter holiday season!
Beyonce Knowles Latest Long Wavy Hairstyle for Black Women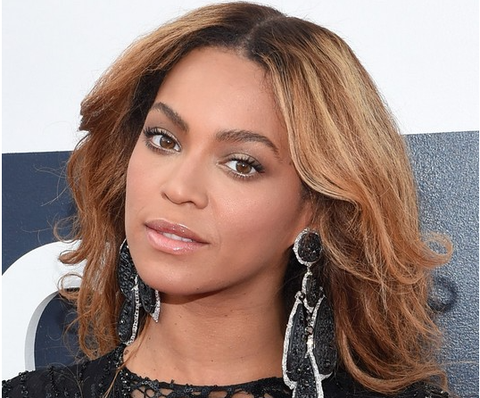 A sexy trendy center parted dark to brunette ombre hair for women. The vivacious Beyonce Knowles loves to keep her long hair curly and voluminous. She also plays around with different colors, from light honey blond to jet black and everything in between.
Mary J. Blige Short Hairstyle with bangs for Black Women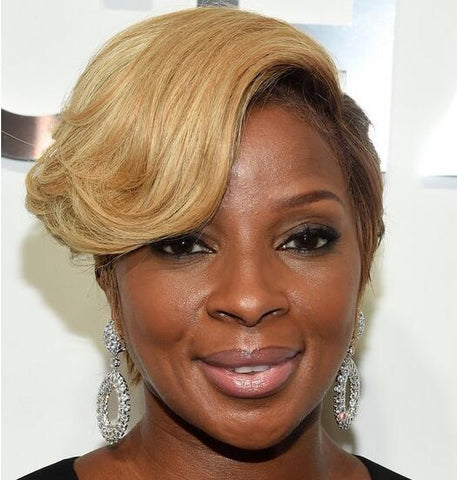 Hairstyles for black women – Mary J. Blige attended the Michael Kors fashion show rocking a short 'do with sculpted bangs.
Rihanna Latest Hairstyles for Black Women
Rihanna loves to have fun with her hair, which is currently a beautiful long sleek black hair style. From crops to updos and everything in between, there are endless ways to have fun as far as she's concerned.
Janet Jackson Short Soft Curly Hairstyle for Black Women
African American wedding hairstyles – Janet Jackson cropped off her hair very short once, yes, a very short cut which made headlines. Do you like the style? I don't like her buzz cut, instead, her latest new soft curly hair looked perfect on her! A great African American natural hairstyle!
Bob Haircut for Black Women
Classic short bob hairstyle for black women. Top model Chanel Iman sported a modern asymmetrical bob at the Golden Heart Awards.
Brandy Medium Black Curly Hairstyle for Black Women
Latest popular hairstyle for African American women – the black curly hair style. Brandy's tight curls were big, thick, and totally full of life at the 'Dancing With the Star' 300th Episode celebration.
 Ashanti Latest Long Blonde Straight Hairstyle for Black Women
Trendy long hairstyles for women – a beautiful long blonde sleek hair style with dark roots from Nicki Minaj. Nicki chose a center-parted sleek style to show off her platinum locks. This hairstyle is perfect for Oval, Oblong, Square, and Diamond face shapes.