Best Recommend Ponytail Hairstyles For Black Women
Getting a gorgeous, feminine ponytail style for black hair is as easy as walking into a salon and letting your stylist work her magic. Even the shortest hair can be transformed with extensions, and natural hair can be styled into a smooth, sleek ponytail or an explosion of curls.
Wrap a piece of hair around the hair tie holding the ponytail in place and you'll amp up your look to the nth power.
Quick Preview All Ponytail Hairstyles In This Post:
16 cute ponytail hairstyles for black hair
High ponytail Hairstyle
Low Ponytail Hairstyle 
Sleep Swoop Ponytail Hairstyle
Cute Cross Ponytail Hairstyle
black woman long ponytail hairstyles
short ponytail hairstyles for black hair
ponytail hairstyles for wedding
half up half down ponytail hairstyles black girl
2 ponytail hairstyles for black hair   
bangs with ponytail black hairstyle 
twist braid styles
ponytail with side bangs
middle part ponytail black girl
half up half down ponytail hairstyles black girl
Curly ponytail hairstyles for black woman
Messy Bun For Black Women
Here we are sharing several popular ponytail hairstyles for black women, and you all can make a reference.
1. High ponytail 
Hairstyle
This black girl's high ponytail hairstyle is perfect for those women who are looking forward to a lovely and vibrant hairstyle. To achieve a Black girl high ponytail, it's great to pull the whole hair to a high location on your head where you like, then use a wide-tooth comb to flat hair and a tight ponytail.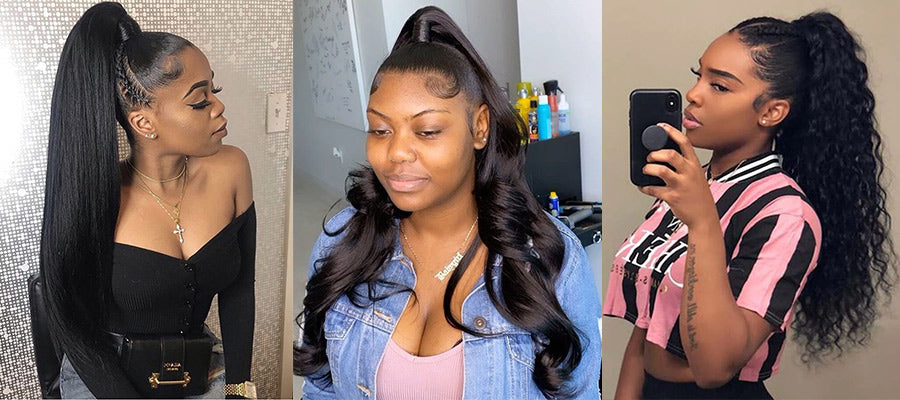 2. Low Ponytail 
Hairstyle
From high to low, This Look with low ponytail hairstyles for black girls makes sense, and it is also an ideal hairstyle to show elegance for a sleek low ponytail black girl.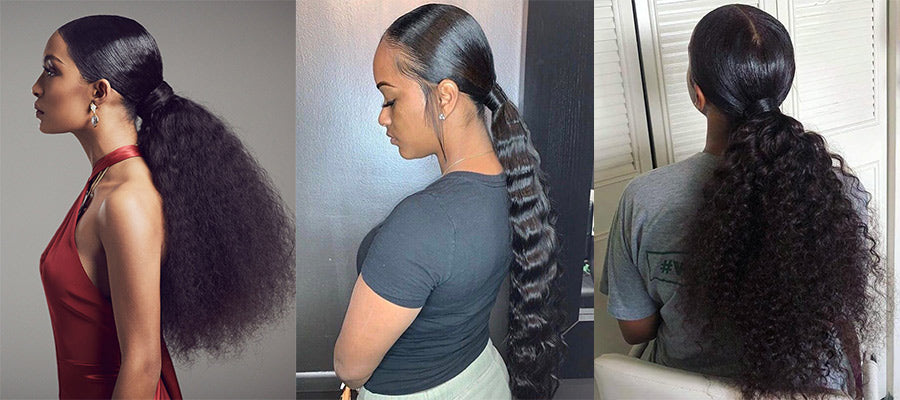 3. Sleep Woop Ponytail 
Hairstyle
Start with a sleek ponytail secured low at the nape. Using at least six more hair ties (or more for longer hair), place them down the length of the ponytail at evenly spaced intervals. The effect will be a bubble-type design. There are many different forms with side part ponytail with swoop, swoop ponytail with curly hair, or swoop ponytail with straight hair.
4.  Cute Cross Ponytail Hairstyle
Put your personality on full display by customizing the classic ponytail to tell the world who you are. Healthy, shiny, sleek hair or fun, springy curls bring any ponytail to life and make it anything but ordinary.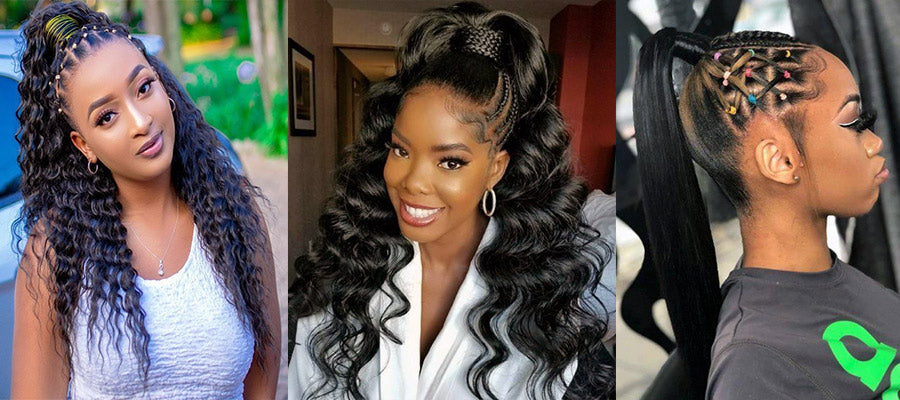 5. black woman long ponytail hairstyles
Someone Pursuit a long goddess ponytail hairstyle, long ponytail hairstyle just gives a slick sweep straightforwardly.
6. Short ponytail hairstyles for black hair
Another ponytail style that allows you to wear and go is the short ponytail hairstyle, it is easy to maintain and comfortable to wear.
7. ponytail hairstyles for wedding
A ponytail hairstyle looks Stunning on the wedding day, a fresh and luxurious look completes this grand creation.
8. black women half up half down hairstyles
You can try half up half down ponytail for a daily look, this is a great one with amazing effect. Stylish and fun characteristics make it pop even more worthy. Hair locks look very shiny.
9. 2 ponytail hairstyles for black hair
Double-ponytail is considered juvenile to young girls for a cute look, try out this special style:
10. Bangs with ponytail black hairstyle  
A ponytail with bangs makes black women stand out for a glam appearance. Add bangs with your ponytail if you are looking for a creative statement.
11. Twist braid styles
The twisted braid technique is welcomed by African American women when you are planning to get along with a creative activity or Gym, This protective style prevents hair from flying away, and spend less time maintaining this once installed.
12. One side ponytail
If you hesitate to decide what part to do, the side part will never go wrong with you.
13. Middle part ponytail black girl
Sometimes, the ponytail styles will be common among black girls with a sleek middle part.
14. black braided hairstyles
This style is featured for Simplicity and neatness, which includes a ponytail and is made into braids.
15. Curly ponytail hairstyles for black woman
A curly ponytail is perfect for additional volume and length. This Elegant and classic hairstyle matches your natural curls and blends very well. Leave out a few curly tendrils to frame your face, and you are set for a beautiful look.
16. Messy Bun For Black Women
Sometimes, Black girls look younger with a messy ponytail and also find it very attractive in other women. Make you feel cool and cute.
Now I have shared 16 ponytail hairstyles for black women, what kind of style do you prefer? Please leave a comment and let me see.
How To Do A Ponytail With Weave
If you want to learn about directions for Completing ponytail hairstyles with weave, there are some steps listed to help you create the final look.
1. Make sure your natural hair is clean and detangled before making a ponytail.
2. Pull all-natural hair in a ponytail.
3. Start it by wrapping around your ponytail and spraying it with your got2B to keep it in place, you just take a bobby pin and just pin it down to where it's not being seen always just painted up at the very back base of the ponytail.
Still not sure? Check out the video below that will show you a professional tutorial on how to do a low ponytail with a weave.
Final Word On weave ponytail hairstyles
Ponytail hairstyles are known as a hair extension that you can try with no effort, they can transform your look quickly and perfectly, they come in a variety of styles and textures for your option, and you can choose one hairstyle depending on your hair type and preference, be bold to try any accessory to match your final look.
Also, you can wear them for any occasion or event, because ponytail hairstyle is everything.
FAQ-black ponytail hairstyles With Weave:
Q: How do you get a ponytail without bumps?
A: Dampen your hair with water, use hairspray on wet hair and use the finest comb possible, use a thin hair tie. Then more hairspray especially around the hairline, the comb your hair towards the ponytail. Then use a bigger tie to hide the bumps near the tie.  From Quora.
Q: How do you get a sleek ponytail with frizzy hair?
A: You need to purchase an Anti-frizz serum or shine product that you rub into your hair starting at the part or forehead hairline + brush it throughout your hair starting at the hairline. Then grasping it very firmly either at the nape of the neck or where you want to position it, quickly wrap it in the band of your choice. Source From Quora.
Q: Why is a weave ponytail so popular?
A: The weave ponytail is a cute hairstyle for events like weddings and birthdays, the styles are simple and easy to manage. From Quora.
Any question, please freely leave us your comment.